It's back to the drawing board! So I thought I'd post how close I came in the third iteration of this paper.
Call
Note in this space that the transfer operator
exists. Then there exists a super function operator on
, call it
,
And if
There exists a

in which,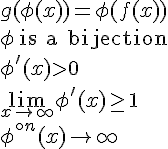 BUT I CAN'T GET
. I think this might be off base even trying to prove it with this much information. So I nearly have a set
which has a conjugate property, but this pesky condition at negative infinity has me stumped. Largely because the behaviour at positive infinity is used to construct
and consequently it encodes nothing about the behaviour at negative infinity. Damn it, so close!
As I said, back to the drawing board trying to find a set of functions which satisfies the conjugate property. I was so close, too!
Regards, James