Okay, I've turned my attention back to my solution, as I'd like to get the library (in SAGE) completed. The key to making use of the change of base formula is being able to exponentiate very large numbers, while still maintaining a reasonable amount of "precision".
Eventually, the best way I could find was to do all my math on a double-logarithmic scale. The reason this is the best scale for doing such large operations can be demonstrated easily.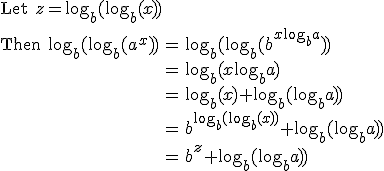 Hence, once we've converted any number into its double-logarithmic equivalent, we can exponentiate one base by exponentiating in the master base and adding a constant. Because we're working with double-logarithms, we can work with very large numbers with full machine precision, without having to have overly large exponents. This is useful for iterating exponentiation in base
a
. Essentially, once
is greater than the number of bits of machine precision we're using, there's no point in further exponentiation, because addition will underflow and the result won't be affected. In other words, at that point, exponentiation in base
a
and base
b
is indistinguishable at machine precision (if you haven't understood my change of base formula before now, this should be an "Aha!" moment).
Note that if we're attempting to do a change of base from base
a
to base
b
, then we could use a double-logarithmic scale in a third base
c
. Base e is the simplest base to work with, for two reasons: first, logarithms and exponentiations are all using base e under the hood anyway, and second, the double natural logarithm of my cheta function is the iteration function of the decremented natural exponentiation
which we've discussed elsewhere.
However, situations may arise where a different base
c
is advisable.
~ Jay Daniel Fox