02/26/2009, 11:04 AM (This post was last modified: 02/26/2009, 04:29 PM by sheldonison.)
I generated two graphs using excel, one for sexp(base e), and the other for sexp(base 1.45). For the most interesting graph, I used the sexp base conversion equation to generate sexp base 1.45 from the
taylor series
for the published sexp base e equations. The data itself looks linear, but the first derivative is wobbly, indicating that the published taylor series is inconsistent with a base conversion definition of sexp/slog.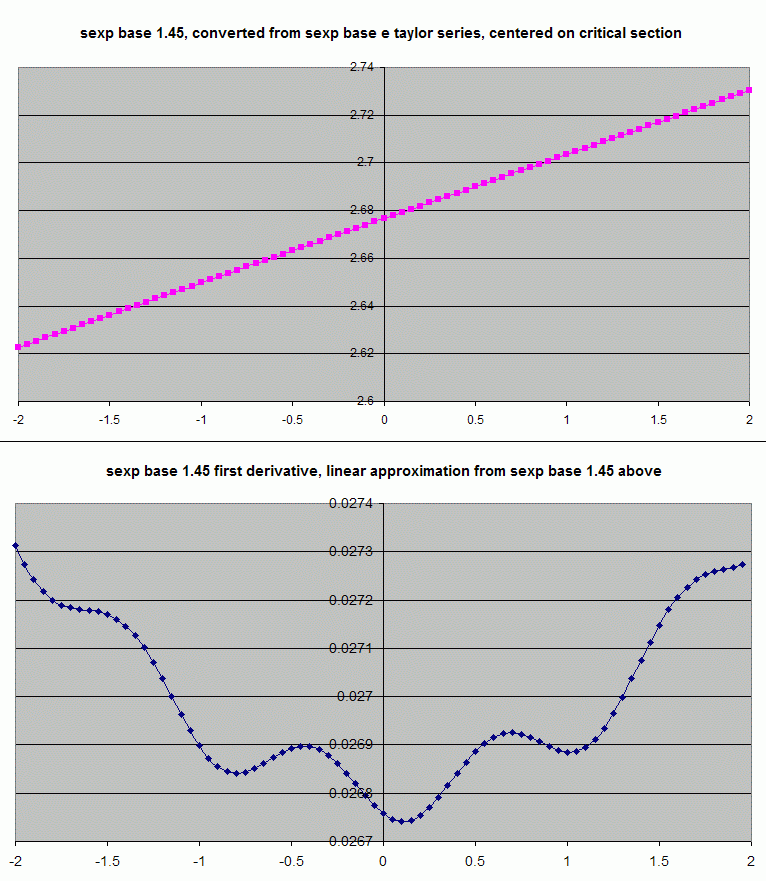 The second graph shows that the conversion from base 1.45 to base e is well behaved, at least to the accuracy that can be seen from the approximation. The base conversion equations are symmetrical, so this sexp_e would convert cleanly back to base 1.45.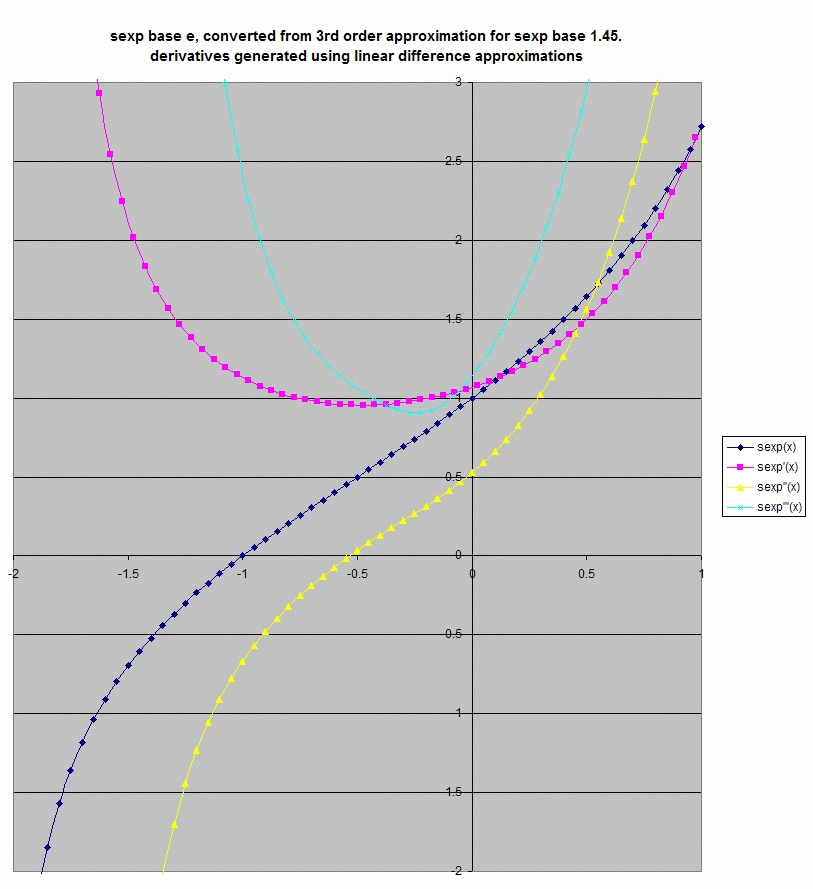 The sexp data for base e for the second graph is close to what I originally posted. It should be accurate to six significant digits, and was generated with the base conversion equation using a 3rd order approximation for the critical section of base 1.45. For higher precision, and to help determine whether or not the base conversion equation converges, I need to download mathematica, and generate data using higher precision arithmetic. I also plan to generate graphs converting to base 2, and base 10, and post those results as well.
-1.00 0.000000000
-0.95 0.053832512
-0.90 0.106246779
-0.85 0.157466974
-0.80 0.207696439
-0.75 0.257121484
-0.70 0.305914394
-0.65 0.354235817
-0.60 0.402236633
-0.55 0.450059416
-0.50 0.497839585
-0.45 0.545706334
-0.40 0.593783475
-0.35 0.642190320
-0.30 0.691042745
-0.25 0.740454582
-0.20 0.790539404
-0.15 0.841412723
-0.10 0.893194454
-0.05 0.946011467
+0.00 1.000000000