02/28/2009, 05:56 AM (This post was last modified: 02/28/2009, 04:10 PM by sheldonison.)
I think there's a reasonable chance the higher derivatives will misbehave, and I think there's a reasonable chance the limit for the sexp limit may not even converge. The graph below is converting to base 1.6, from base 1.4453
The anomaly in the third derivative of the graph seems larger than the error term. I need to do some more error term estimates, and also see if converting from other bases (1.45 and 1.485, the other two spreadsheets I have generated), give similar results. Smaller bases are much more sensitive to the problems, which aren't seen in the third derivative for base e. The anomaly in the third derivative is caused by the fact that the inflection point for this sexp estimate is on the "wrong" side of the critical section -- the inflection point is on the right of the critical section instead of the left of the critical section.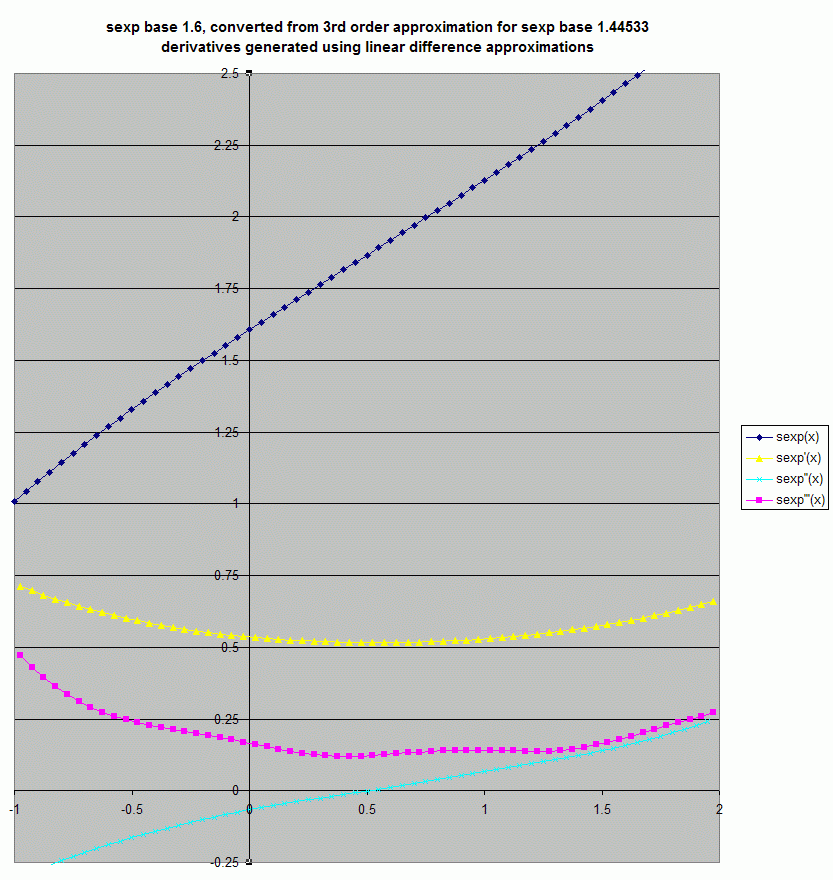 I suspect that with a base close enough to

converted from a base even closer to

, even the first derivative will eventually show an anomaly, which might invalidate the error term equation estimates I derived. I saw a similar result converting from base 1.45 to base 1.485, where the inflection point wound up on the "wrong" side of the critical section, also causing the anomaly. But in the base 1.6 case, the results seem to be outside the range of the error term.
All this is hypothetical. I probably need to download a version of mathematica to generate the results in higher precision arithmetic to be certain, but maybe Jay is correct. Maybe the sexp base conversions are always going to have anomalies, the question is how large they are.