(08/09/2014, 09:16 PM)

tommy1729 Wrote: As for J(x) <=> J ' (x) = J(x/2)
I think I know a way to prove lim x-> +oo A(x)/J(x) = 1.083...

But what really intrests me is a closed form for 1.083...
Havent I seen this number before ??
Well, I think a good place to start is to treat f(x) (or are we calling it J(x) now?) as a limit:
Define a step size h, and set x=hk
Then, the standard A(x) becomes A_1(x), and J(x) becomes:
This form presents a couple of nice benfits. For starters, we can derive imaginary iterates without having to find a taylor series and plug in imaginary arguments. We simply use a complex/imaginary step size. The sequence itself is still linear. (Not linear as in degree 1, but linear in the sense that we follow a line in the complex plane, like a line integral, but with a sequence that simply has an integer index.)
The second benefit is that we can draw a direct analogy with Euler's constant e = 2.718... Let's redefine exponentiation using a similar form:
Then e is given by the limit:
So what's the analogy to 1.083...?
1.083... is J_0(oo) / J_1(oo)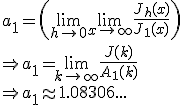 Therefore, a_1 is analogous to e_1, where e_h = exp_0(1) / exp_h(1), with exp_0(1) = e. Numerically, e_1 = e/2 = 1.35914...
~ Jay Daniel Fox