I'm extending a note, which I posted to sci.math.research today.
I hope to find a solution of the problem by a reconsideration of the structure of the matrix of stirlingnumbers 1'st kind, which may contain "Infinitesimals" which become significant if infinite summing of its powers are assumed.
------------------------------- (text is a bit edited) -----------------
Due to a counterexample by Prof. Edgar (see sci.math) I have to withdraw this conjecture.
The error may essentially be due to a misconception about the matrix of Stirling-numbers 1'st kind and the infinite series of its powers.
----
It is perhaps similar to the problem of the infinite series of powers of the pascal-matrix
P
, which could be cured by assuming a non-neglectable infinitesimal in the first upper subdiagonal
Assuming for an entry
of the first upper subdiagonal in row r (r beginning at zero) in the pascal matrix
P
which is an infinitesimal quantity and appears as zero in all usual applications of
P
. But if applied in a operation including infinite series of consecutive powers, then in the matrix
Z
, containing this sum of all consecutive powers of
P
we get the entries
By defining

assuming
this leads to the non-neglectable rational quantities in that subdiagonal of the sum-matrix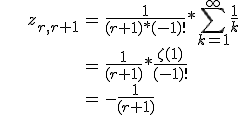 With that correction the infinite series of powers of the pascal-matrix leads then to a correct matrix,
including the above definitions for the first upper subdiagonal, which provides the coefficients of the (integrals of) the bernoulli-polynomials, and can be used to express sums of like powers as expected and described by H.Faulhaber and J.Bernoulli.
(for more details see
powerseries of P, page 13 ff
)
---
This suggests then to reconsider the matrix of Stirling-numbers of 1'st kind with the focus of existence of a similar structure in there.
-------------------------------------------------------
Does this sound reasonable? It would require a description of the matrix of Stirling-numbers 1'st kind, which allows such an infinitesimal quantity.
But there is one important remark: this matrix contains the coefficients of the series for logarithm and powers of logarithms. A modification of this matrix would then introduce an additional term in the definition of these series. Something hazardeous...