GFR Wrote:Dear UVIR and Gottfried,

I have examined with interest the "details" shown in the UVIR's posting. Unfortunately, I cannot agree with putting:
b # n = y => b = y # (1/n).
Dear GFR,
There has already been at least one peer reviewed paper on this definition of tetraroots, so whether you "agree" or not is irrelevant.
GFR Wrote:Moreover, I think that these two "tetration" formulas don't have any point in common. Their sets are disjoint. There is no similarity with the "exponentiation" case, where the power and the root functions are described in the same domain and we can find a root function representable as a power. I know but, unfortunately, ... this is the real problem.

GFR
Nonsense. The tetraroot is the exact reverse operation of tetration, since:
Specifically, one can see the connection with infinite tetration, when one writes: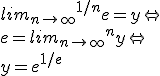 which is absolutely correct.