I just found a way to calculate slog on the imaginary axis!
It depends very much on Jay's observation that slog is imaginary-periodic.
Let

. S is periodic with period

, because
. Since S is periodic, we can use Fourier series to represent it. Let
, then
. The Taylor series coefficients of R will then be the Fourier series coefficients of S. In terms of the super-logarithm,
. This means the Fourier series coefficients of
are the Taylor series coefficients of
which we already know. In other words,

, so:
The nice thing about this is that it seems to bypass the radius of convergence problem near z=i since its a Fourier series and not a Taylor series. Is this right?
I've included a plot with multiple approximations, which seem to converge much faster than doing analytic continuation section-by-section. The top line is the imaginary part, and the bottom line is the real part, and the "y" axis is
:
PDF version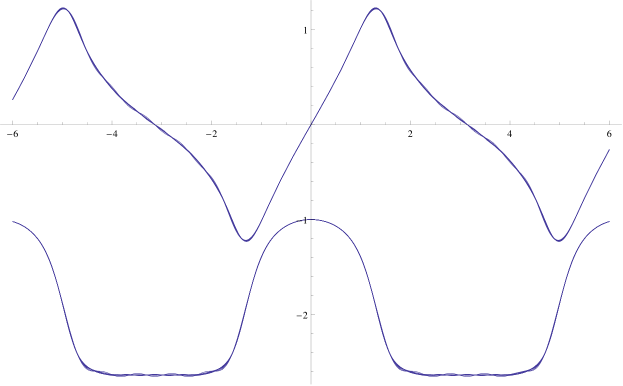 Andrew Robbins